Hiya ladies!
I am kinda late on showing this. :)
My life get busy again and bugs bites my cable again which makes my electricity on and off. But here are my newest collection!
One of them is my collaboration with Danielle Young Designs. :D
I really LOVE how it turns out. Unusual color for me which challenging and makes me happy as I love trying new things! :)
Woodland Whisper Collab Kit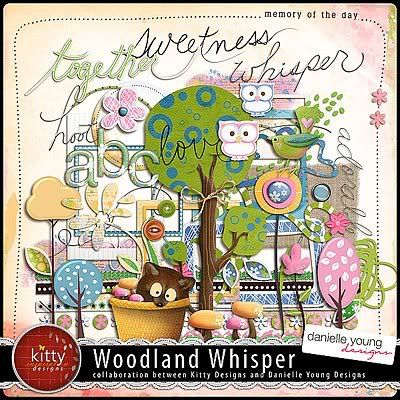 You'll dream of peaceful, whimsical layouts as you scrap with this kit as it unites the two distinct, yet compatiable, styles of Kitty Designs and Danielle Young Designs!
includes:
* 21 beautifully textured papers
* 1 jelly, floral alpha set (a-z)
* 2 basket designs (with and without racoon/mushroom inset)
* 1 bird
* 2 page border designs (with and without shadows)
* 1 flower border
* 1 colorful brush splatter
* 1 cloud shape
* 5 flower designs
* 6 frames
* 3 leaves
* 1 set of mushrooms
* 2 journaling mats
* 5 swirls
* 5 trees
* wordarts include: adorable, hoot, love, peaceful, sweetness, together, whisper
* 1 scalloped border
* 1 natural rope bow
* 1 brad
* 2 threaded buttons
* 1 scribbled doodle
* 1 set of floating leaves
* 1 woven photo mask
* 1 woven mat
* 3 chipboard owls
* 3 jelly owls
* 2 12" ribbons
* 1 12" ricrac
* 2 stitches (1 circle, 1 wave)
and here are some inspiration from my precious team! ;)
also my newest fave projects also ready for you! :)
365 Inspirational Sketch Version. 6
Available now, the 6th version of my fave template collection! It's another unique template with few elements include to make you easier choosing what elements you want. The purpose of these template are focusing to your photos as memory keeper.
So here are the version 6 of 365 Inspiration Sketch from me, which as always has journaling on them and suitable for at least 1 week project.
It has 7 template in PSD and Tiff version so if you have lots of photos, this can be used for at least a week.
This time, ALL ELEMENTS ARE INCLUDEexcept the button on template 1 and heart on template 4.
Please check every image to see how this template looks like more clearly.
For more option, you can check
365 Inspirational Sketch Ver.1
365 Inspirational Sketch Ver.2
365 Inspirational Sketch Ver.3
365 Inspirational Sketch Ver.4
365 Inspirational Sketch Ver.5
Elements include are:
(1)
dot border
(1)
ribbon piece
(1)
doodle border
(1)
mini square pattern paper
(1)
hearts
(1)
date tag
(1)
title tag
(1)
doodle stitches
(1)
word tag: "little friend"
check out the additional images to see what you actually get!
For bigger images, please click the link to my product!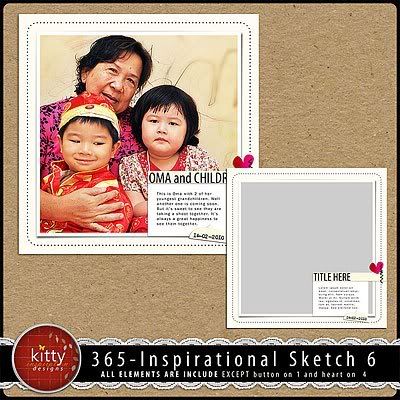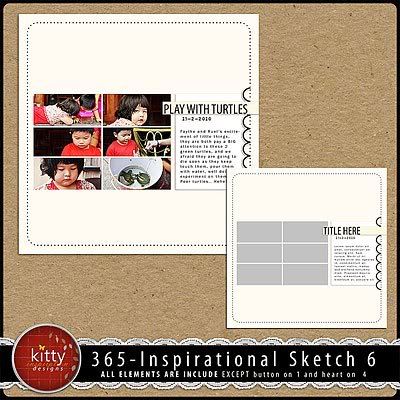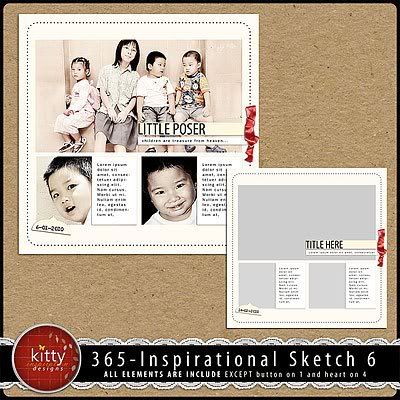 Hope you like it.
And please keep your eye as I will have a new Peek-A-Boo RAK coming!
Hugs and have a blessed day!
Kitty