Hi ladies!!
Happy Monday..
I had been reaaaally sick yesterday that I sleep whole day and don't even go to the church. So DH and my son left me to go to church and Sunday school while I was sleeping. I feel lots of better today.
Just wish this flu will go away soon.... and forever.. Hehehe..
So I have a new mini kit today. :)
I love the cute elements combined here...
Temple of Heart
20% OFF
until
Wednesday, 3 February 2010
This kit include:
9 papers
2 pack of alpha (1 layered alpha, 1 single alpha)
37 elements
and also you got
2 FREE QUICK PAGES
with purchase. :)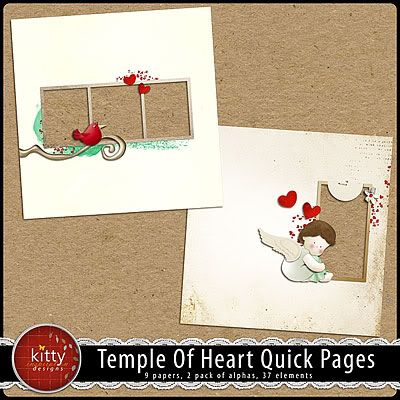 I also make a page about my best friend's daughter here:
She is such a cheeky little girl, so cute, and always JUMP when she is happy, even when she was sick and in the hospital. :) Her name is Shane. :)
and here are some other inspiration from my precious team and friends:
also I had made a mini freebie for you here:
I know not much things inside.. but I hope you like it. :)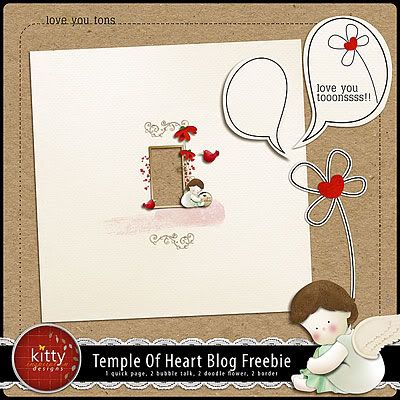 Include:
1
quick page
2
doodle flower (1 with border, 1 not)
2
doodle frame (1 black, 1 white)
2
bubble talk (1 blank, 1 with words)
you can:
DOWNLOAD HERE
Last but not least, here are the random winner, post are counted with my facebook comments all together!! :D
mnbearpaws
kym
Natasha
Congrats, I really hope you like it..
and don't forget to leave me your email address here!!
Also I made a new FAN Blinkie after awhile. :)
One is for Kitty Designs kits and one for my blinkie service. :D
Hugs,
Kitty