Hi ladies!!
Thank you so much for your sweet comments on Ruel's art, really makes me happy.. so happy.. Thanks for let me share some of my happiness..
And I had answer some question in my comment box but just incase you don't read..
For those who questioned why his therapies won't let him learn drawing (
Denise
and
TeenaBugg38
), yes Ruel has PDD NOS (pervasive development disorder - not other specific), it's under DSM IV category, under the autism spectrum. Even though you can hardly recognize him when you met him, unless you are a mother of child with special needs, which will train your eyes to be easily recognize children with the same spectrum as your children. :) In other words, he is very very mild, after 2 years therapy.

Teena
, what is your blog? I would like to read your story, too, if you write them at your blog. :)
(Well I think I wanna write his story one day)
He has a really high imagination, sometimes kinda vivid, and his therapies afraid that drawing class can make his imagination goes wider (and maybe wilder? :P ). But really I don't really get it either if that can makes a big deal. So I just follow my mother instinct to just go for it. ;)
And all.................., thank u sooooooo much, it makes my cheek bloom now. LOL.
I was thinking about the little drum, too, but since I not an expert in music (I do play guitar but autodidact - so I have no basic at all), so I kinda confuse how to teach him. But maybe I can just do it for fun, right? Just for him to understand this.
Anyway, today Ruel was absent from school because of cough, flu, and vomit yesterday. Well.. no fever but the weather is totally bad bad bad lately, and many children got cough, too, and his class, so I decide to take him a break and take a rest at home.
We are doing a drawing activity. He wanna draw his go-kart but it's actually too complicated for a 3 year, but well.. he insist and ok.. let's do it I think. Even though we change some of the colors. Especially the "black" color. I wanna teach him to avoid black, silver, and gold color 1st as it's tend to make the overall art "die", unless he already an expert on it (well hope you understand what I mean - my English is limited). :P
This was the latest creative progress.
Well NO we are not drawing on the bed. We do all on the table, just the latest touch. Hehehe.. This is when I tought it was finished already then I realize he haven't give the finishing touch (the sky), so I am giving him the book and asked him to give the finishing touch, and he did that.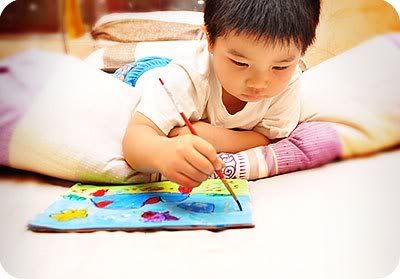 ops.. this is how the go-kart looks like:
This photo was taken
Sept 11, 2009 - Friday
. The 1st time we bough it. :) Just wanna show you how the go-kart looks like.
and here is the latest result. :)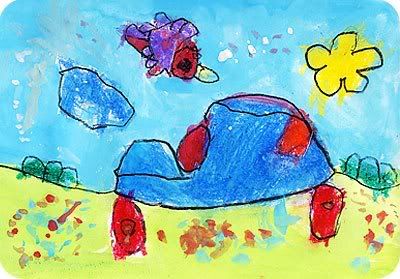 the "yellow" was changed to red. It's what he wants.
But the black wheel and steering wheel is what I asked him to change the colors. Red is also his choice.
Others are all his choice of colors.
He wasn't looking at the camera, since there's a dog show on TV while I took the photo. :)
That's our activity today. :)
Anyway.. now this is the other thing I wanna share with you. :)
I am opening another Peek-a-Boo-RAK!!
The theme is BOYS BOYS BOYS! :D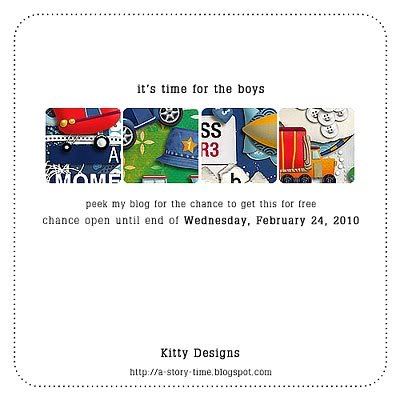 So just leave me something here and you can win it.
Just a note, since I will be off for holiday -
it's my 1st vacation after 5 years..
:) , after I post the winner I will be off for 3 days with no internet, so you need to wait a bit longer before you got the coupon. :)
Don't forget to check back here for the winner!
Have a blessed and haaaaappy day!!
Hugs,
Kitty
PS: CLOSED and winner posted! :)