Hi ladies!!
Kinda late on posting this but here is it now! :D
The album & sketches I made this time is pretty much combination between white space and full page design. :D I really love it. And I hope you do, too!
Both will be
30% OFF
until the weekend! :)
Inspire Me Sketches 1 (Templates)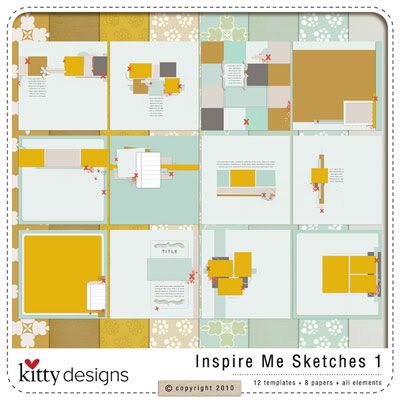 Inspire Me is created for those who want to have a scrapbook style album for their photobook. The sketches designed with some white space so you can add your own journaling, and also big premier photo you want to showcase.
Template include:
12 templates in 12x12 inches
8 papers (5 patterns, 3 solids)
all elements shown at the preview
You can peek on this
album slide show
on these 12 pages here.
Not everything in the slide show include, instead please check on the preview.
Coordinated kit with this templates is:
Tiny Mini Kit
And here are few pages created with this album by my sweet team:
If you prefer a quick page for one magic touch and easy peasy way, please peek on:
Inspire Me Album 1
Album include:
12
quick pages in 12x12 inches
Kit used in this album are all include in:
Tiny Mini Kit
and now..
here is the winner:
Congrats!! :D
Please email me: kitty.designs@yahoo.com to claim your code and let me know which one do you prefer, album or sketches!!
Hope you inspired!!
Hugs,
Kitty