Hi ladies!!
Today I have a fun moment to meet few of my scrap buddies in real. :D
This is the 2nd time I met
Lydia
and
Armina
, but definitely the first time I met
Lie Fhung
as she lives at HongKong. Well actually not really the 1st time. I was attending her art gallery last year and stunned with her art work. And I so glad this time we all met her in real and chit chat with her.
And she is really a fun, spirited, funny, and definitely .. er.. crazy? LOL..!!
But anyway I am having a R E A L L Y great time. FUN! Seriously!
and I will be really happy to met them all again!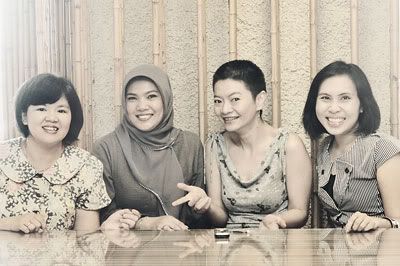 Photo were taken by Lydia's 1st daughter with my camera.
I am so inspired with all the chat we did today. :)
Definitely refreshing moment for me.
and ok.. now back to scrapity scrapity things! :D
I will have a new kit for Monday.
Here is the peek:
As always, post here for chance to win this kit, and double ur chance by tweet, blog, & facebooked!
Have fun!!
Hugs,
Kitty