It had been 2 days since the school off.
There's a singapore flu virus incubate the school and they need to give a 1 week off for all the children. So I plan to use this time for giving Ruel lots of exercise and probably some art works.
He is the one who asked me to stay besides him while he draw.
And here I took a photo of him seriously drawing his fave object: train: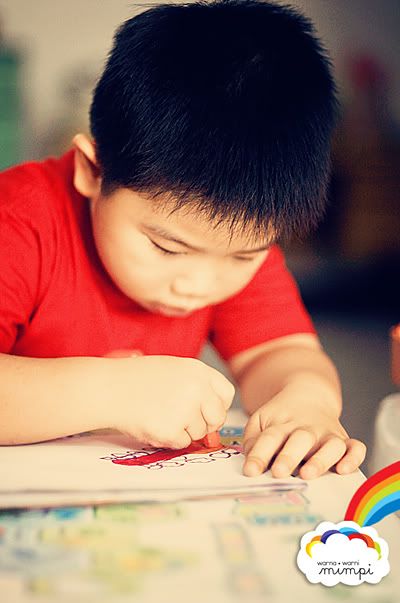 This is Rue's free hand drawn. he draw, pick the colors, do the coloring, all by himself. and even the composition, and the scared sun. :)
Lately he loves to draw a scared creature chased by train with. LOL.
I don't do the editing here coz I want to keep it original.
He 1st draw with marker and then color with crayons, and use paint for the sky. And for the final, he use black glass pencil to draw the line.
Here is the final result:
and while I was looking at his art, I open his older art work and found this, which is the same theme that in his imagination.
This was created at:
Thursday, 21 May 2010
and I was smiling. :)
Finding that he had improved since that time for a better composition, understanding of white space, and stronger finger that he can finished his work faster and not become easily tired while doing the coloring.
And he amazingly learn about all: composition, 3D object, not by me or teachers but by looking at.. dunno his toys? He is pretty much an observer (not like me - his mom.. :p - LOL )
I think it's amazing to keep my eye of Ruel's improvement through his art.
Thanks for listening and I wish u a great and beautiful day. :)
PS:
Don't forget I have a challenge going on. :)
Please see the post
here
. :D
Hugs,
Kitty