Hi ladies!!
I am just back from my best friend's wedding party, been so tired and I wanna get rest very soon! :D
So glad to read all the sweet and encouraging comments!
And now it's the time for the winner!! :D
Based on Random Generator.. the winner is:
which are: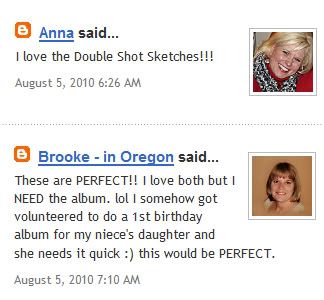 Anna will win
Double Shot Sketches 1 (layered template)
, and Brooke win
Double Shot Album 1 (quick pages)
as wishes!!
Congrats sweet ladies!!!
Please leave me your email here and I will email u the coupon!!
*hugs*
Kitty