What is your daily routine?
For me every day I spend most of the time at computer, watching Ruel playing, laughing.
Yesterday I feel extremely bored and wanna do something different. But it's Wednesday, middle of the week and I definitely can't go out and have fun and leave the family, after all I am a mom. So I steal some time while Ricks were playing basket ball with church friends and go to a near Mall, Mall of Indonesia, and spend around 3 hours there, bringing my computer, sit at Starbucks, ordering Ice Signature Chocolate, without whip cream of course. And start to work.. And it does make a difference in my mood. So anytime you get bored, go and do something different, even a very little one, trust me it does make a difference, at least for me. :)
I draw a little of my daily activity yesterday:
I took some photos of Ruel playing baloon. Ignore the ugly background. :P It's a daily photo anyway. :)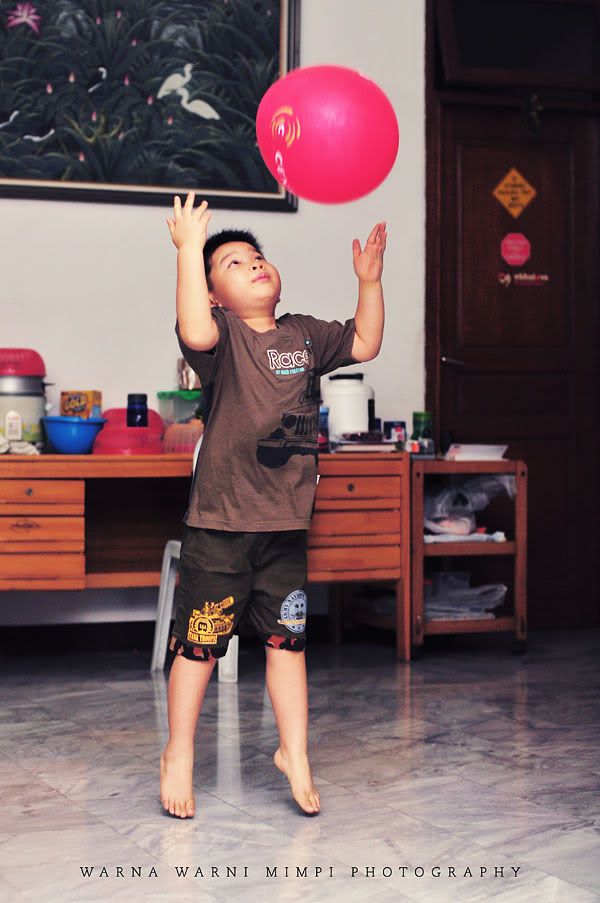 It's a good day after all. I chat with
Winnie
(Charlize) and
Lydia
after a long break, I think months after our last chat. And we update each other with our latest news. Talking about family, design, health, and supporting each other. And I feel good doing that. I had meet both of them in real life. Me and Lydia know each other from scrapbooking, but me and Winnie had know each other from other Indonesian forum at 2002.
Anyway, I am glad to be able to "fix" my mood, having a little "me" time, connected again with friends, and still enjoy my family.
What are you doing when you are bored? :)
I hope you all have a great day, too! Wishing you a wonderful time and a blessed day.
Hugs,
Kitty