Some of you may know what my son Ruel (5 years old) really loves to draw. He is a better artist than me and my hubby I think. At least he is FAR better than both of us while we were at his age. :)
Lately when he draw his sketch, sometimes he put his 'mark' on them.
And he said, it's his LOGO. Yes, he said LOGO!
He knows LOGO from
the Cars
' Logo (he can draw it, too), and of course from a lot of LOGO his daddy made for clients.
And Ruel grow by looking at all of his daddy's work.
So here I wanna show you Ruel's logo:
The "jr" one is his main logo.
And the 2nd one is his "cool logo". He said "logo keren" in Indonesia. But I think it translated better as "cool logo" in English. :D
And this is his sketch this afternoon: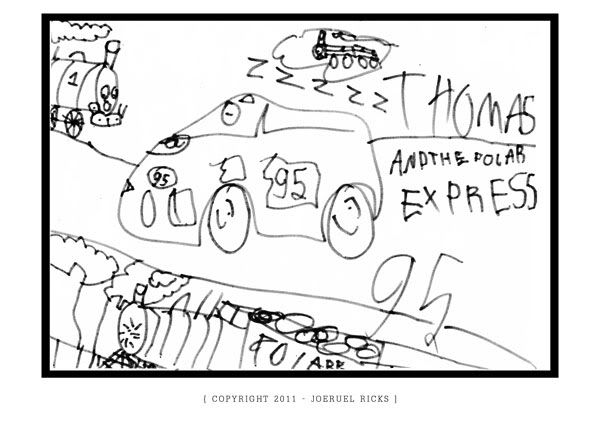 Every time he finished his sketch he tell the story to us. All of his hand drawn has story in it. So it's interesting. And sometimes it's an entertaining imagination. :)
FUN!
I just can't imagine can have this kind of joy by having a child.
What a blessing.
Thank God for it. :)
And thanks for reading..
Blessing to you and family.