Happy Monday everyone!!!
I am excited to start my SUPER BUSY week!!
Lots of works to do!
Family day activity at Ruel's school. Working on the decorations, doing photos for my friend's shop, and maybe we will go out for coffee and some fun chit chat, too... And then ... photos for children's activities, work on banners - blinkies - preview service, probably working on new kits, templates, patterns... and will join parents competition at school as well.. hahaha love being dirty with mud and chocolate.. :D
Well yah.. that will be a super busy weekend.. but FUN!!
How about you??
I hope you will also have an excitement spirit and happiness all around you!!
My newest kit today is:
Kiss A Magic
been working on this for awhile and finally finished it. :)
I love how it turns out.. so much fun and cheerful just like what I love.
And u know me in my real life.. well that's pretty me as well. Hehe..
It will be
20% OFF
now.
And
FOLLOW me on TWITTER
to get another extra disc!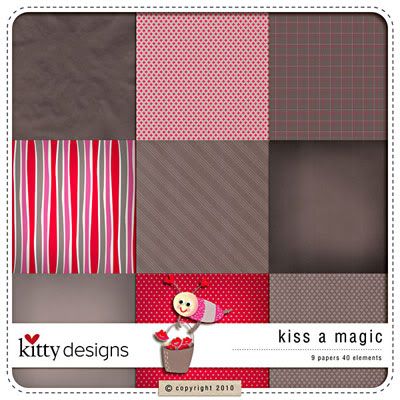 A kiss is always a magical touch to show people our love.
Include:
9
papers
40++
elements
and here are some inspiration:
Hope you love it!
-------
And btw no scrapping thing..
I just made this:
It's for a shirt we going to use for parents at Ruel's school. :)
I hope it printed great. wish wish wish... :p
Kit used is:
Daylicious
, alpha from:
Hang Your Own Alpha
And again.. I wish u have a blessed day!
Hugs,
Kitty