Hi ladies!!
Finally here is the revealed of:
Light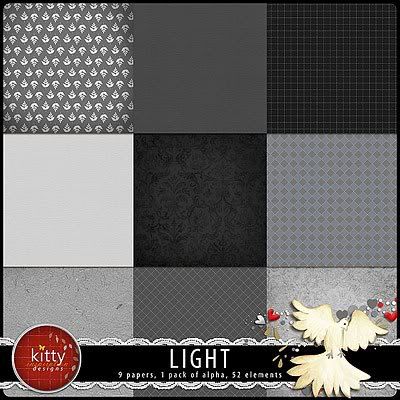 A kit that inspired by my 2010 resolution: faith.
Include:
9
papers
1
pack of alpha and numbers
more than 50
elements
When I creating this kit, the only thing in my mind is I wanna make something that related to my 2010 resolution, something about faith, something about spirit, something that can make me scrap about my Christian journey. Something that can makes me learn to be a better person not by my power but by His grace. But after I finished the kit, put a peek a boo RAK, my heart becomes heavy. I know that me "myself" is not worth to make something that represent Christianity, but He is the one who makes me worth... but then God reminds me that intimidation is not come from God. God's spirit is peace and joyful. My past before I become a Christian is hard, and my Christian journey is not easy either, I sometimes failed and sometimes makes Him sad. Sometimes I can't be a sample.
One thing that reminds me is Christian community is a place where a bunch of sinner, a bunch of guilty people comes together to be saved and to be changed.
And I am one of them.
I am not better that anyone. Not holier. Not stronger.
I am weak, I am a sinner, I am guilty, and I am nothing... I am just a dust.. yet God loves me and say that I am the apple of His eyes. Yet He comes to the earth and save me on the cross.
Today, I am still someone want to be changed.
And only by His grace, I can be better.
When you pick this kit... do not see "me".
See God. And may you be blessed, be changed, and full of His grace.
I hope this kit even though it's only a simple thing, can bless you..
Here is the page I created, the journaling is about what I feel..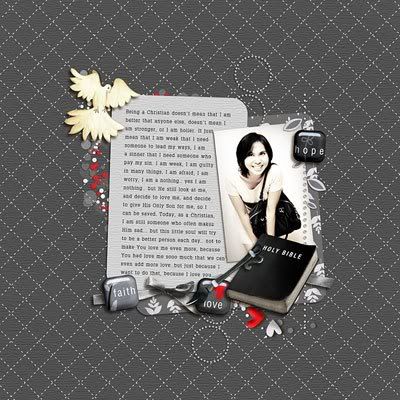 larger image to my gallery click here.
and here are some more inspiration from my beloved team: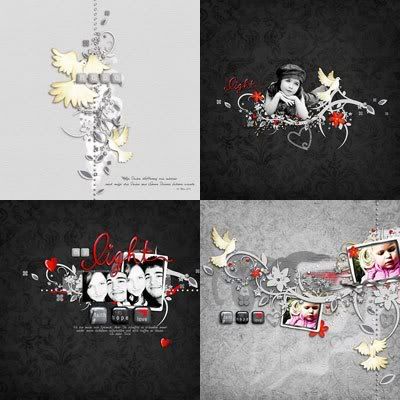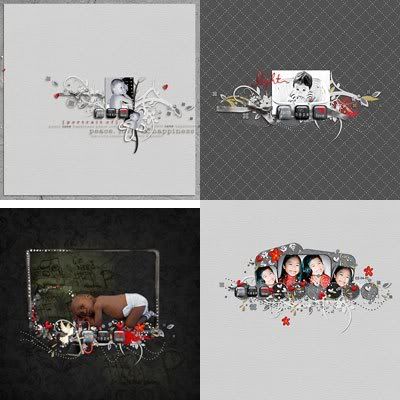 And now.. here is the winner of this kit:
18
Maja
23
Jitka
25
SHOKolad
Please leave me your email here.. :) and I will send you the coupon!
Hugs,
Kitty