I was wondering will I join the 365 project this year. :)
My hubby Ricks decide to join although his 365 is more like an inspiration a day from his photograph. You can peek his 365 project here:
365 Project by Ricks at Facebook
However I do take few photos during 1 Jan 2010
In this photo, I set the setting and my nanny help to take a photo of 3 of us before we went to Kelapa Gading Mall together.
We just arrived at Kelapa Gading Mall and we asked Ruel to stand in front of the Christmas tree and take a shoot. He didn't want, but we said we'll not let him play Thomas if he didn't want to take a photo. Hehehe..
He is actually kinda "camera aware". :D
He knows that camera is actually hunting him, but depend on his mood he will either give his biggest smile to the camera or doesn't want to look at the camera at all.. :p
Today Ricks was browsing few photography site and I am interested in some yellow tone photos and was thinking I might wanna try it one day. :) And then few minutes ago, I peek on Reagen's photos and also found some 'yellow tone' photo editing, so I decide wanna try now on Ricks photo. :)
This photo was taken on Jan 1, 2010 at Kelapa Gading Mall, Periplus book store.
Ricks was reading Batik Design Book, while Ruel was reading Thomas the Train book, so I decide to take a few shoots.
Not a "wow" one. :) Just some ordinary shoot from our daily activity.
And yep, he is one of my inspiration!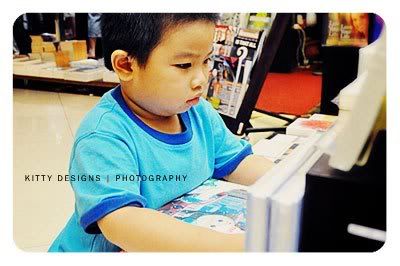 Ruel was busy reading Thomas The Train book at Periplus, Mall Kelapa Gading.
So.. they are all few photos taken at Jan 1st, 2010. :)
Have a blessed day!!