Hi ladies!!
Today I have 2 new stuffs, and both coordinated!!
Definitely can make an awesome album together.
First of all, here is the reveal of the previous peek:
Pure Cuteness
20% OFF
today until Saturday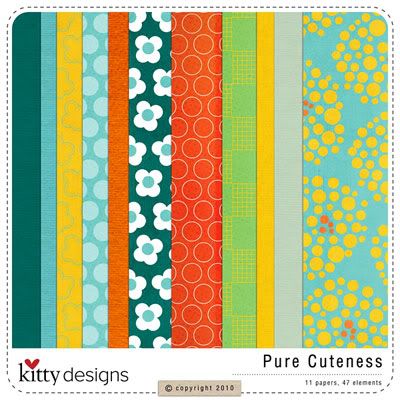 and you also get a FREE quick page with purchase:
created with my own page for Ruel.
This kit was inspired while I am watching my son, Ruel's act and laughter and the way he response to things. And I believe every children are pure of cutesy!
This kit dedicated for all children.
Include:
11
papers
47
elements
1
FREE Quick page
This kit is
personal use
only.
Contact me for scrap 4 hire license: kitty.designs@yahoo.com
and here are some inspiration you can see for ideas:
I am truly blessed to have all my team create such an amazing inspiration pages all the time!
And not only that,
Tanja
, my hybrid team also create this super, seriously super!, cute stuffs with this kit. Do you see the necklase? Oh I so want it!!
and omg that butterfly serious....!!
and the other one which is my fave product as well is:
Whimsical Sketches 6
I seriously enjoy creating this. And I always include few papers that I believe can complete this pack.
30% OFF
until Saturday
available in TIFF & PSD version.
Get inspired and created a beautiful & whimsical album for all your captured memory.
Include are:
16
templates in TIFF version
4
papers: 3 pattern, 1 solids
4
whimsical shape
2
stamp/brush
2
heart
1
"memory" hand writing word
1
"our story" type writer word
1
bracket
1
whimsical note
1
love flower whimsical shape
1
swirly stem dots
1
stitches
1
staple
I am so hope u feel inspired to create the best memory for your beloved one!!
And now, not to wait more longer..
HERE is the winner of Pure Cuteness kit:
which fall to:
congrats, nie!!
Please post here your email or email me at: kitty.designs@yahoo.com to claim your kit!
Hugs,
Kitty