While I really want to post an inspiration about my new kit and collection, I feel so strong in my heart to post something that cross my mind since yesterday after hours when I met my cousins and big family.
I wanna share this page.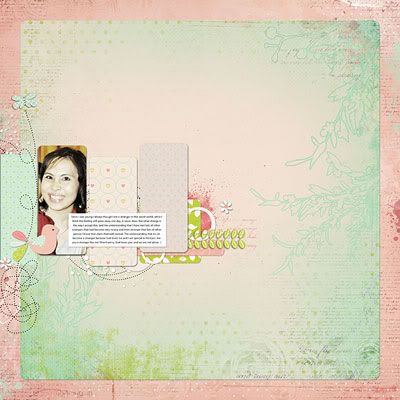 Credits:
Retrolicious Kit
,
Bunch of Sketches 7
Journaling:
Since I was young I always though I am a stranger in this weird world, while I think this feeling will gone away one day, it never does. But what change is the way I accept this, and the understanding that I have met lots of other strangers that had become very tsrong and even stronger that lots of other person I know that claim themself normal. The understanding that it's ok become a stranger because God loves me and I am special in His Eyes. Are you a stranger like me? Don't worry, God loves you, and we are not alone. :)
Again, are you a stranger like me?
You might not realize that you are stronger that you though.
But, again.. do you ever talk to God that you don't want to be a strong person, you just wanna be happy.
I do. I said that several times. and I also hear those words coming from other "strangers".
But here this a good news for all of us:
King James Bible, Ephesians 2:19
Now therefore ye are no more strangers and foreigners, but fellowcitizens with the saints, and of the household of God;
In God, you are not a stranger.
In God, you are special and just that: SPECIAL, and no one just like you.
In God, He will never compare you to others.
In God, He loves you with no reason
In God, you are His adorable baby
In God, He see your heart, not your outlook
In God, you are an apple of His Eyes
In God, He UNDERSTAND.
The world might not understand the way you think, and you might not understand the way the world "think and works".
But it doesn't matter again. Because He loves us. And we loves Him. And that is the only thing that matter. and the promise that He WILL NEVER ever leave us. NEVER.