Hi ladies!!
Thank u so much for all the sweet comments. :D
And now.. here is the sketches and album collection and both will be
30% OFF
until weekend!!
Double Shot Sketches 5
all elements in this preview are include. :)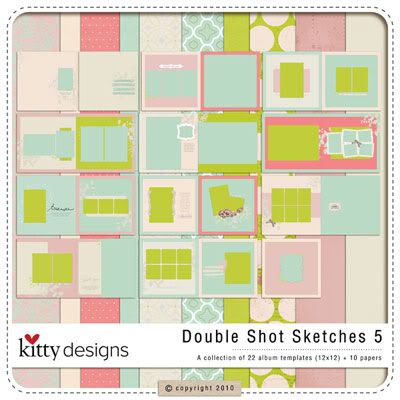 Include are:
10
double pages template (24x12 inches) + 2 single template (12x12)
*which means you got
22
templates in 12x12 inches
available in PSD Version
*everything in the preview include*
10 papers: 4 solids, 1 whimsical, 5 patterns
1 whimsical stem leaves
1 big tag
2 bunch of word tag
1 tag
3 whimsical tittle tag
1 whimsical frame
1 ribbon
1 bunch of paper roses
1 bunch of leaves
2 stamp frames
1 "treasure" word
1 "heart you" word
1 heart
1 "i love you forever" word art
few spreading dots
and if you prefer an easier way, check out this:
Double Shot Album 5
This is a collection of double pager templates:
Include are:
10 double pages quick pages (24x12 inches)
*which means you got 20 quick pages in 12x12 inches
1 front quick page
1 introduction page
1 back quick page
Don't forget to check out the inspiration in slide show here:


See the slide show here!
Uploaded with
ImageShack.us
Not to wait any longer..
the winner is:
Which fall to:
Congrats, Sandra!! :D
Please email me at kitty.designs@yahoo.com
and I will send you the coupon for winning the: Double Shot Sketches 5
Have fun and be inspired!
Have a blessed day!
Hugs,
Kitty