Hi ladies!!
Here is my new kit:
Boy's Dream of Christmas
Every little kit has their own imagination about Christmas and gift.
And little boy has their own. How about a Santa with a flying car visiting you with your gifts?
And an angel boy flying around telling good things about you?
This Christmas kit is a dream every boy wish for.
But this is also perfect for little girls.
Include:
12 papers
1 alpha
41 elements
Coordinated with
Inspire Me Album 3
a gorgeous album for your Christmas memories.
and here are some inspiration:
also check out my newest album:



Inspire Me Album 3 (Quick Pages

)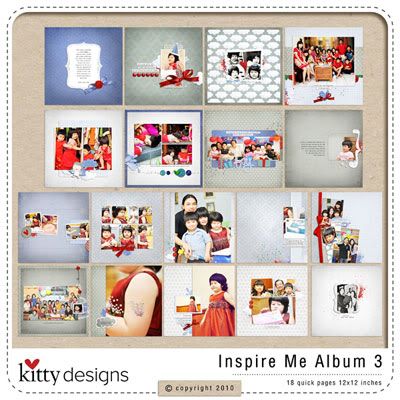 Inspire Me is created for those who want to have a scrapbook style album for their photobook. The album designed with some white space so you can add your own journaling, and also big premier photo you want to showcase.
Album include:
18 quick pages in 12x12 inches
Kit used in this album are all include in:
Boy's Dream of Christmas
You can peek on this
album slide show
on these 18 pages here.
Click here to view this photo book.
and now.. here is the winner:
Please email me: kitty.designs@yahoo.com
to claim your prize. :)
Hugs,
Kitty