Ok... guest what?
I am collaborating with one talented designer and also sweet friend of mine! YAY!
And who is that?
Yep! It's Amandaresende or
Amanda R Designs
from After Five Designs store!
Don't you think it's amazing? :D
I am sooo loving how this kit comes out, and it's totally my style. Sparkling, magical, whimsical... fun.. etc etc... and here I present you:
DREAMING
20% OFF
today only!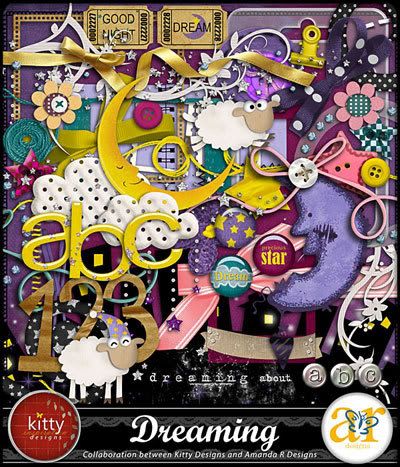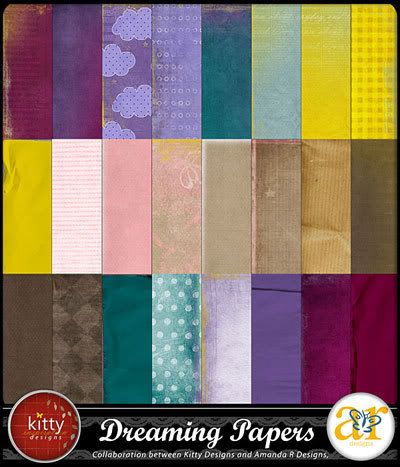 This kit is really full with gorgeous goodies you don't wanna missed!
I always feel
sweet
and
peaceful
every time I see my boy sleep. I wonder what is in his dream, and also I dream about what the best for him. No words can really explain it, but I believe
every parents
understand this so well. Dream is like magic... we can imagine things that not happen yet today.. and when we wake up, we stand to make it real. Everyone, not only a little child, should not lose their dreams.. there is hope and future when we believe in our dreams. So here is the magical dream kit for you.. to scrap your children.. and also to scrap your own dream!
For
ONE WEEK only
, if you purchase this kit start from
Thursday: October 9 - Wednesday: October 15
, you will get
FREE Quick Pages
(10 pieces each 12x12 inches).
This KIT include:
24 high rich texture: pattern, solid, and dreamy papers
3 set of alpha (1 set also include numbers)
83 elements:
2 bows
3 buttons flair
3 buttons
4 buttoned strings
2 clouds
1 cardboard moon
3 cardboard stars
1 circle felt
4 clips
2 doodle borders
1 diamond frame
1 diamond frame with swirls
1 falling stars
2 felt flowers
3 flowers
3 frames
1 layered clouds
1 layered clouds with moon and sparkle
1 magical sparkles
1 magical sparkles with ribbon
2 night scenery (one with sparkle)
1 notebook
2 ribbons (shadowed and non shadowed)
1 rubberband
4 star buttons
2 stamp frames (shadowed and non shadowed)
2 sheeps
1 sleeping moon
2 sparkle overlays
2 staples (shadowed and non shadowed)
4 stitches
1 square stitches
4 strings
4 swirls
2 tickets
1 tag frame
3 wrapped ribbons
1 wing
2 word arts (black and white)
1 wire moon
1 wire star
yeah! that's right, you can grab FREE Quick pages for FREE if you purchase this KIT for 1 week only!
and here is the quick pages: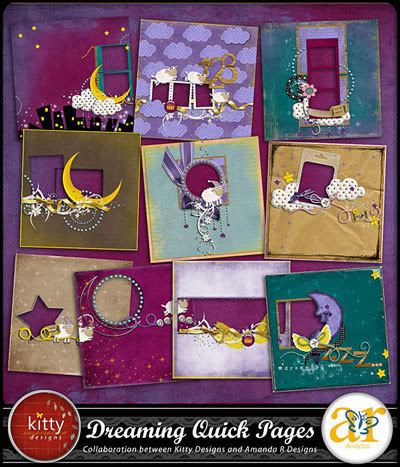 and here you go... pages from our team: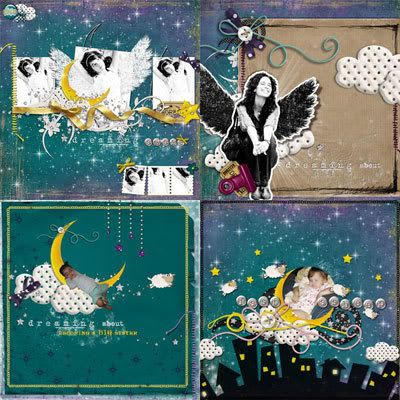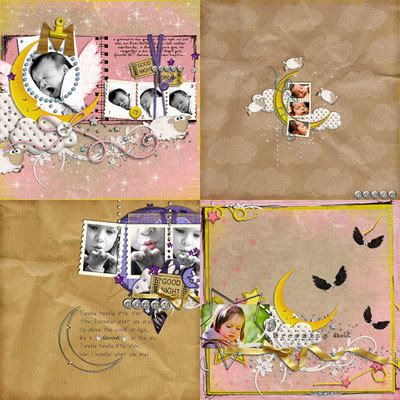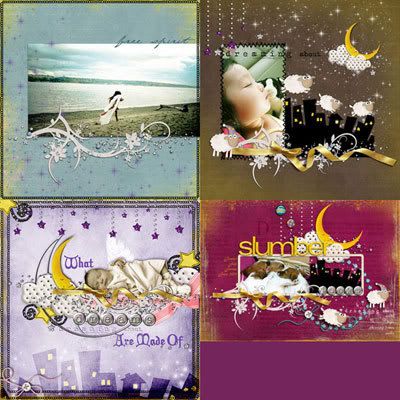 ----------------
Ok.. this gonna be a long post, BUT, not only that!
I create a pack of
Magical Words - DREAMING
that coordinated with this
Dreaming
Kit!
Magical Words - DREAMING
20% OFF
today only!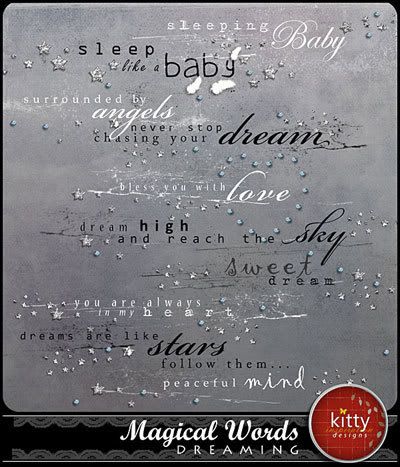 Another
magical
and
sparkling
stuffs for you to make your pages shine, whimsical, fun, and beautiful, this time comes with words as a
Magical Words
!
Comes with 10 words, each with black and white version. PNG files.
magic magic magical! ;)
and here are what Amanda created with this magical words (yes, THAT
Amanda
who collaborating with me, don't you think she is just an amazing scrapper as well?)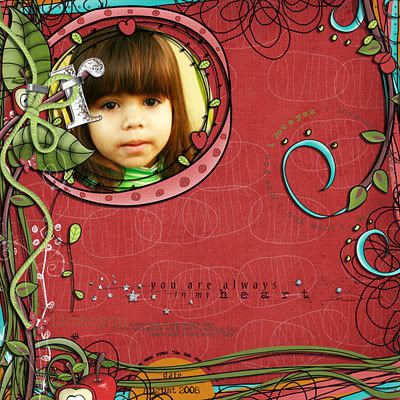 This page is created with:
-
Apple of My Eye
-
Magical Swirls 2
- and of course:
Magical Words - DREAMING
and don't you just adore
Katrina
's simplicity style?? well I do!!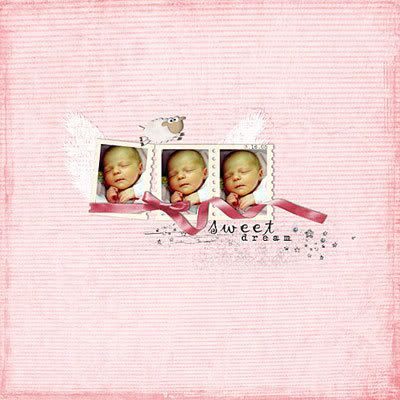 --------------
I tell ya.. I am not stopping...
here is the latest product I have for ya!
This time is sold over Christina Renee Designs BLOCK Party!
My Sketch Alpha version 2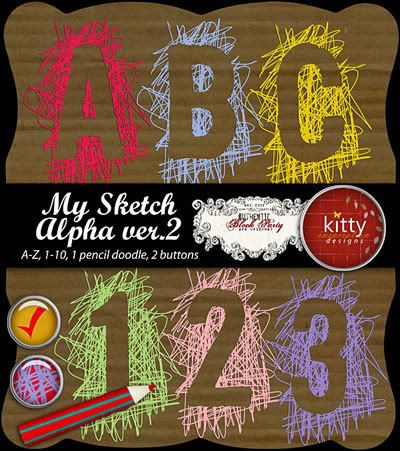 this comes with complete alpha: A-Z, numbers 0-10 *yes, 10!, 1 pencil doodles, and 2 buttons. :)
and this time... I scrap! hehehe..
I missed scrapping so much and this funky fun alpha makes me wanna scrap! yay!
So here is my page with it: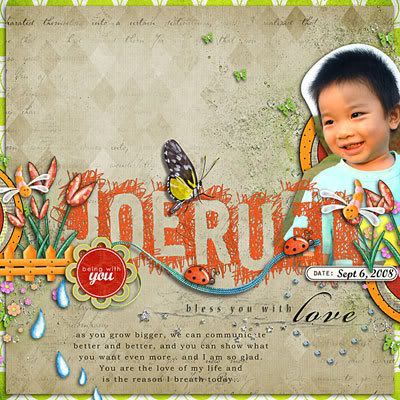 This page is created with:
-
Little Garden Day
-
My Sketch Alpha version 2
(
30% OFF today ONLY at CRD
)
-
Magical Words - DREAMING
(
20% OFF today ONLY at Oscraps
)
-
Magical Swirls 2
- Art of Butterfly (also available
Commercial Use version
)
oh almost forget... I also wanna show you another creative way to use this alpha from this page:
so...
HAVE FUN!!
and happy scrapping!!